Oden Mapping Data
Cruise information for Lomonosov Ridge off Greenland (LOMROG) 2007
Download the full cruise report as an PDF file.

The Lomonosov Ridge off Greenland was the primary focus for the LOMROG expedition. This part of the Arctic is virtually unexplored as difficult sea ice conditions have made it inaccessible for surface vessels. With Swedish icebreaker Oden supported by new Russian nuclear icebreaker 50 Let Pobedy (50 Years of Victory), LOMROG managed to reach the southernmost tip of the Lomonosov Ridge off Greenland to carry out multibeam mapping, subbottom and seismic reflection profiling, gravity measurements, geological coring and oceanographic station work. The LOMROG 2007 expedition was a Swedish/Danish collaboration project with participating scientists also from Canada, Finland, and USA. The data collection was made for the purpose of studying paleoceanography/oceanography, glacial history and the tectonic evolution of the of the Arctic Ocean as well as for Denmark's Continental Shelf Project under the United Nations Convention on the Law of the Sea Article 76. LOMROG made use of the Konsgsberg EM120 multibeam and SBP120 subbottom profiling system installed on the Oden during the spring of 2007. Despite severe ice conditions (commonly 10/10 north of Greenland) bathymetric multibeam and chirp sonar data were acquired, although, some in some areas the thick sea ice drastically reduced the data quality. A new multibeam survey technique was therefore developed that made it possible for Oden alone to collect high-quality data in 10/10 ice conditions. This technique involves that Oden is spun around 180° in a "pirouette" while acquiring multibeam data in a sector 360° around the ship equal to the multibeam swath width. After one "pirouette" was done, the icebreaker broke ice using its full capacity to the end of the coverage, where a new pirouette was carried out.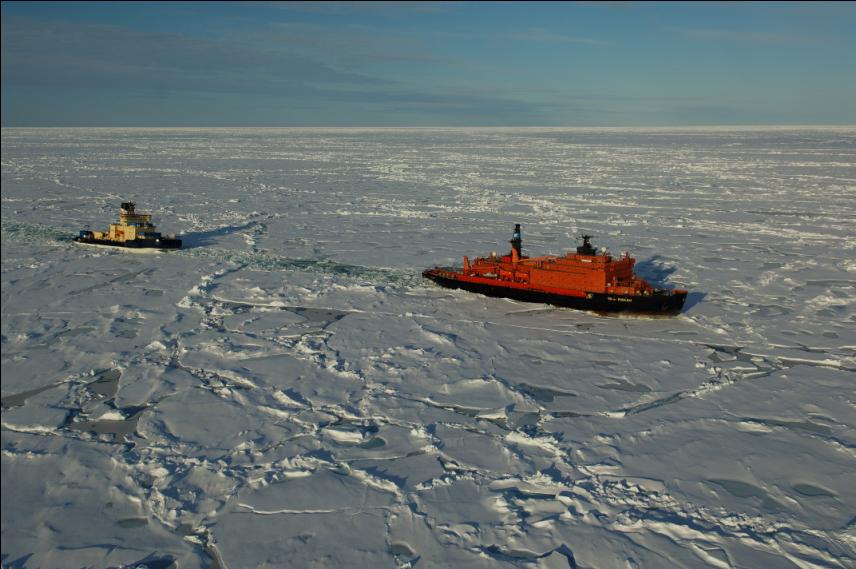 Swedish icebreaker Oden and the new Russian icebreaker "50 Let Pobedy" in the hard ice conditions on the Lomonosov Ridge north of Greenland. (Photo Martin Jakobsson).
LOMROG cruise track, station work and seismic profiling. Detailed maps showing station numbers are available in the full cruise report.
Participants
The participants of the LOMROG 2007 expedition. In addition, there are several scientists working on the LOMROG data that not took part in the expedition. These are not listed in this table.
LOMROG participants.
Marine geology and paleoceanography project
Scientist/PI
Jakobsson, Martin
Stockholm University
Sweden
Scientist
Darby, Dennis
Old Dominion University
USA
Technician
Eriksson, Björn
Stockholm University
Sweden
Scientist
Hanslik, Daniella
Stockholm University
Sweden
Scientist
Hell, Benjamin
Stockholm University
Sweden
Technician
Karasti, Markus
Stockholm University
Sweden
Scientist
Löwemark, Ludvig
Stockholm University
Sweden
Scientist
Polyak, Leonid
Byrd Polar Research Centre
USA
Scientist
Sellén, Emma
Stockholm University
Sweden
Scientist
Wallin, Åsa
Stockholm University
Sweden
Denmark's continental shelf project
Scientist/PI
Marcussen, Christian
Geological Survey of Denmark and Greenland (GEUS)
Scientist
Anthony, Dennis
Royal Danish Administration of Navigation and Hydrography
Denmark
Scientist
Dahl-Jensen, Trine
Geological Survey of Denmark and
Greenland (GEUS)
Denmark
Scientist
Forsberg, René
Danish National Space Center
Scientist
Funck, Thomas
Geological Survey of Denmark and Greenland (GEUS)
Denmark
Scientist
Janzen, Timothy
Canadian Hydrographic Services
Canada
Scientist
Lykke-Anderssen, Holger
University of Aarhus
Denmark
Scientist
Ramløv, Hans
Roskilde University
Denmark
Scientist
Rödel, Lars-Georg
University of Aarhus
Denmark
Scientist
Sølvsten, Morten
Royal Danish Administration of Navigation and Hydrography
Denmark
Scientist
Trinhammer, Per
University of Aarhus
Denmark
Scientist
Vankilde-Pedersen, Thomas
Geological Survey of Denmark and Greenland (GEUS)
Denmark
Oceanography project
Scientist/PI
Andersson, Leif
University of Gothenburg
Sweden
Scientist/PI
Björk, Göran
University of Gothenburg
Sweden
Scientist
Eriksson, Patrick
Finnish Institute of Marine Research
Finland
Scientist
Gårdfeldt, Katarina
Chalmers/University of Gothenburg
Sweden
Scientist
Hjalmarsson, Sofia
University of Gothenburg
Sweden
Scientist
Jutterström, Sara
University of Gothenburg
Sweden
Scientist
Olsson, Anders
University of Gothenburg
Sweden
Scientist
Nilsson, Johanna
University of Gothenburg
Sweden
Scientist
Zemlyak, Frank
Bedford Institute of Oceanography
Canada
Logistics and media
Exp. Mgt.
Karlqvist. Anders
Swedish Polar Research Secretariat
Sweden
Exp. Mgt.
Rickberg, Sofia
Swedish Polar Research Secretariat
Sweden
Media
Andrea Helminen, Suvi
STV
Denmark
Media
Sorento, Kenneth
STV
Denmark
MD
Ekblad, Krister
Swedish Polar Research Secretariat
Sweden
IT-man
Frejvall, Per
Swedish Polar Research Secretariat
Sweden
Pilot
Akse, Geir
Swedish Polar Research Secretariat
Sweden
Pilot
Mäki, Thomas
Swedish Polar Research Secretariat
Sweden
Hkp-Mek
Reskow, Mart
Swedish Polar Research Secretariat
Sweden
Teacher
Sjöö, Carin
Fyrisskolan, Uppsala
Sweden
Icebreaker crew
Master
Årnell, Tomas
Oden Crew
Sweden
Ch. Officer
Andersson, Erik
Oden Crew
Sweden
2:nd Officer
Wisén, Mats
Oden Crew
Sweden
2:nd Officer
Wahlberg, Kenneth
Oden Crew
Sweden
Bosun
Hansson, Mats
Oden Crew
Sweden
Able Seaman
Sjöbom, Einar
Oden Crew
Sweden
Able Seaman
Hansson, Lars-Åke
Oden Crew
Sweden
Able Seaman
Nilsson, Jan
Oden Crew
Sweden
Ch. Engineer
Skantze, Dan
Oden Crew
Sweden
1:st Engineer
Hillberg, Markus
Oden Crew
Sweden
2:nd Engineer
Rundqvist, Jörgen
Oden Crew
Sweden
2:nd Engineer
Hahne, Martin
Oden Crew
Sweden
Oiler
Bladh, Per
Oden Crew
Sweden
Oiler
Pettersson, Olof
Oden Crew
Sweden
Oiler
Leth, Aron
Oden Crew
Sweden
Ch. Cook
Andersson, Lars
Oden Crew
Sweden
Messman
Romero, Hilda
Oden Crew
Sweden
Messman
Wahlqvist, Christina
Oden Crew
Sweden
Cook
Sundström, Sandra
Oden Crew
Sweden
Fitter
Lundberg, Stellan
Oden Crew
Sweden
2:nd Officer
Nilsson, Stigbjörn
Oden Crew
Sweden